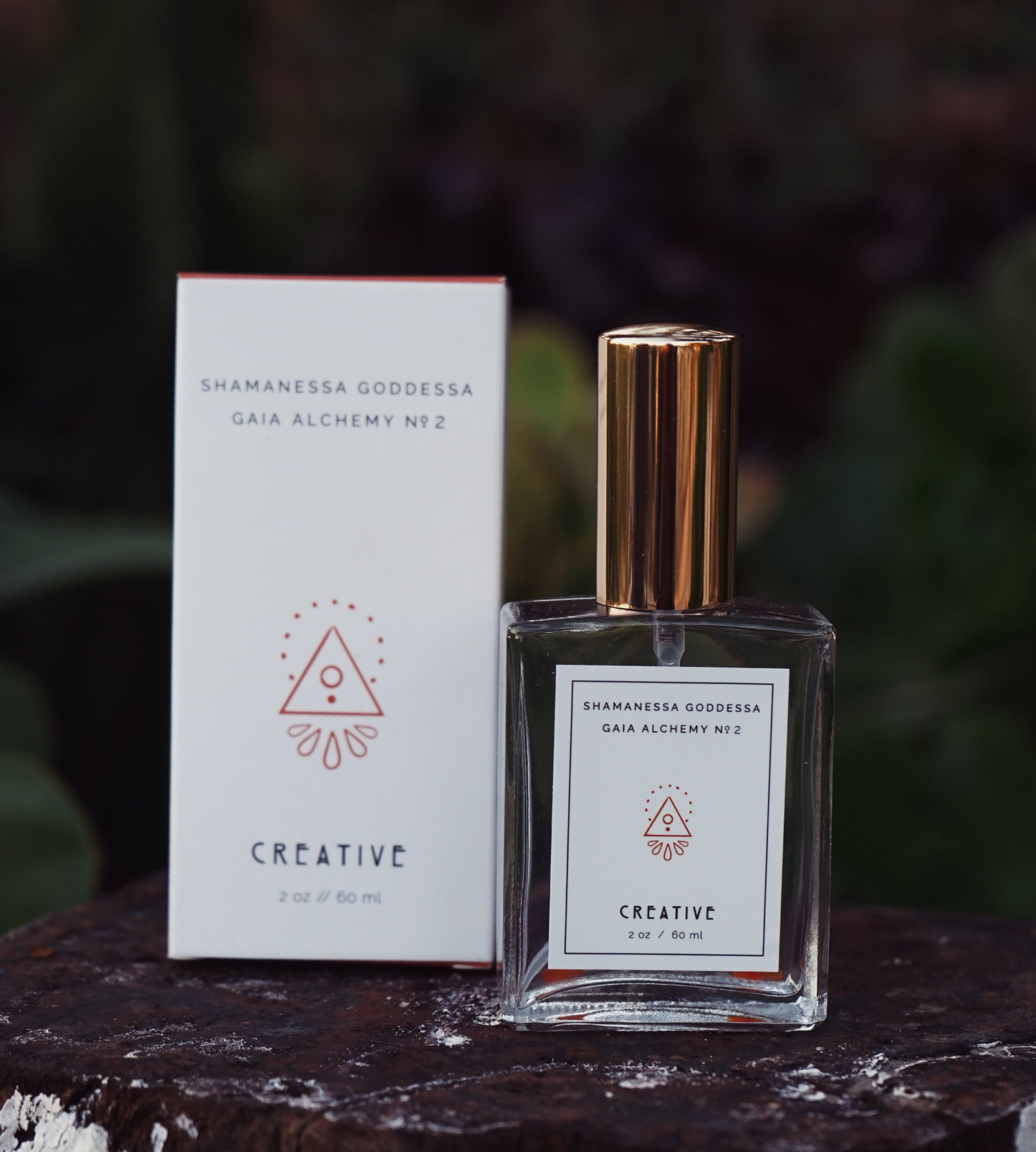 creative
YOUR LIFE IS YOUR MASTERPIECE.
2 oz // 60 ml SMUDGE SPRAY
Dedicated to the sacral chakra, SVADHISTHANA, with the mantra ADI SHAKTI, this sacred alchemy blend will enhance your connection to your emotions as you realign with the primal force of all creation. Allow the radiance of CARNELIAN to help you align positive life choices as you create + choose to live in a loving + compassionate world.
Gaia Alchemy No 2
ADI SHAKTI | eliminate fear + fulfill your desires by tuning into the energetic frequency of the Divine Ma + her protective embrace.
CARNELIAN | attracts prosperity. ambition. promotes confidence + community. fertility. restore lost vitality + motivation. go with the flow of the Divine Plan.
JASMINE | innocence. purity of the mind. spiritual love. promotes mental creativity. psychic protection to the aura.
MYRRH | clear illusions + negative energy. spiritual connection. deep healing.
ORANGE | love. divination. luck. money.
Blessings
REIKI | KUNDALINI MANTRA | LUNA LOVE + LIGHT | 432HZ SOUND ALCHEMY
Sacred Ceremony
take a deep breath + center yourself. spray around your low belly. ground yourself to the root of the Divine Wisdom within.
The Adi Shakti Mantra tunes one into the frequency of the Divine Mother, and to the primal protective, generating energy. It is said that chanting it eliminates fears and fulfills desires. Merge in the Maha Shakti. This is enough to take away your misfortune. This will carve out of you a woman. Woman needs her own Shakti, not anybody else will do it. When a woman chants the Kundalini Bhakti mantra, God clears the way. This is not a religion, it is a reality. Woman is not born to suffer, and woman needs her own power. // YOGI BHAJAN
Who You're Supporting

5% of the proceeds from GAIA'S ALCHEMY NO. 2 will be donated to POSTPARTUM PROGRESS, supporting the creation of healthier families by raising awareness, reducing stigma, providing social support and connecting mothers to help for perinatal mood and anxiety disorders like postpartum depression. You can learn more about POSTPARTUM PROGRESS by visiting postpartumprogress.org.
HANDMADE + BLESSED IN SMALL BATCHES | VEGAN | ORGANIC | PLANT-BASED | GMO-FREE | CHEMICAL-FREE | GLUTEN-FREE | CRUELTY-FREE
please be aware // Ingredients may infuse SHAMANIC DREAM with color therapy too! SHAMANIC DREAM is not approved by the FDA. This offering is intended to support personal sacred ceremonies and can be used throughout the day. If you find yourself with any irritations, please, be smart and stop using SHAMANIC DREAM. Shamanessa Goddessa is not responsible for any misuse of our products and/or any adverse reactions. If you're nursing or pregnant, pleased be advised that some plant medicines are not recommended for you or your baby. Please consult your physician before using SHAMANIC DREAM. Please be aware, SHAMANIC DREAM is for external use only. We do not recommend for children and/or individuals under 18 years of age unless discussed with your physician.